You are here

Educational Events Calendar - RSVP Today!
Educational Events Calendar - RSVP Today!
Reby Advisors hosts educational community events throughout the year that are designed to be educational, engaging and practical. We select presenters who love what they do and communicate complex topics in easy-to-understand terms.
Browse our events below and RSVP today by calling (203) 790-4949 or signing up online through the links provided.
---
HOW THE ELECTION RESULTS IMPACT YOUR WEALTH
Live Virtual Event • Thursday, Nov 12th • 6pm ET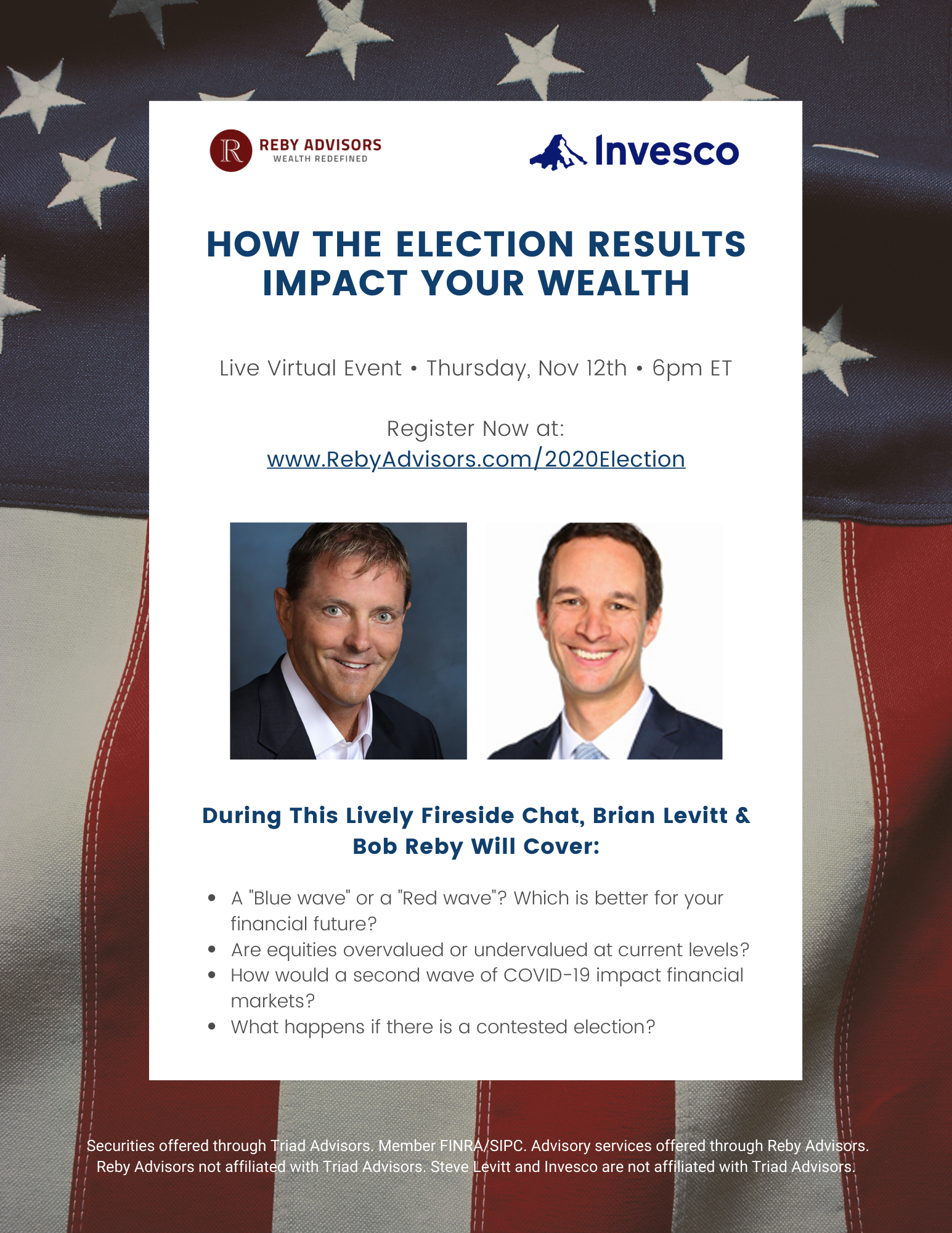 Brian Levitt is a Global Market Strategist at Invesco and is frequently quoted in the press, including Barron's, Financial Times and The Wall Street Journal. He appears regularly on CNBC, Bloomberg and PBS's Nightly Business Report. During This Lively "Fireside Chat," Levitt & Bob Reby Will Cover:
A "Blue wave" or a "Red wave"? Which is better for your financial future?

Are equities overvalued or undervalued at current levels?

How would a second wave of COVID-19 impact financial markets?

What happens if there is a contested election?

---
THE FUTURE OF MONEY
The Digital Transformation of Our Economy and Financial Lives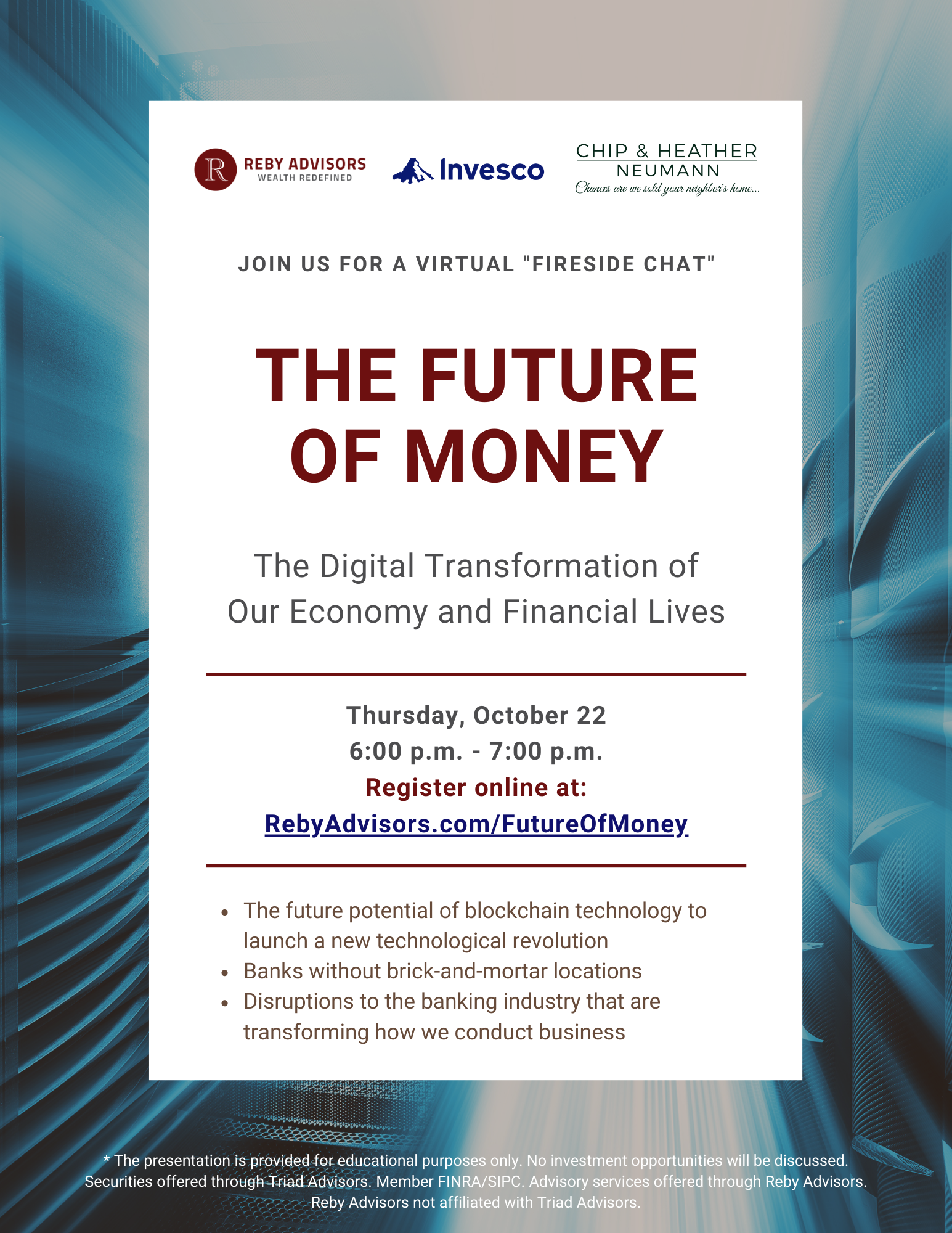 Bob Reby, CFP®, and Chartered Financial Analyst Evan Darr of Invesco Private Capital will cover:
The future potential of blockchain technology to launch a new technological revolution

Banks without brick-and-mortar locations

Disruptions to the banking industry that are transforming how we transact and conduct business
*The presentation is provided for educational purposes only. No investment opportunities will be discussed.
---
Free On-Demand Video for Young Professionals
Taking Control of Your Money Before 40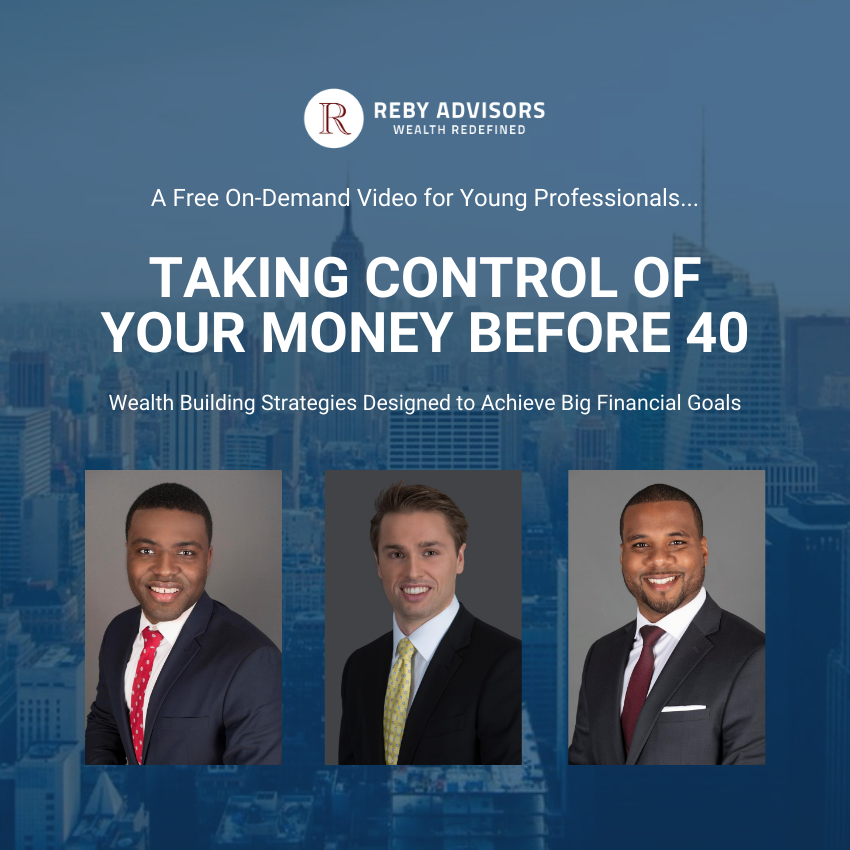 This on-demand video includes advice on how to make important decisions that will impact your financial independence...
How should I invest in the stock market: individual stocks, mutual funds, or ETFs?

Should I build wealth by investing in real estate beyond my primary residence?

How can I protect my young family or financially prepare to start a new family?

What is the best way to manage student debt?

And more!
Please do not hesitate to share this video with someone you care about!
---
On-Demand Video Class
The CARES Act Impact on Social Security and Retirement Planning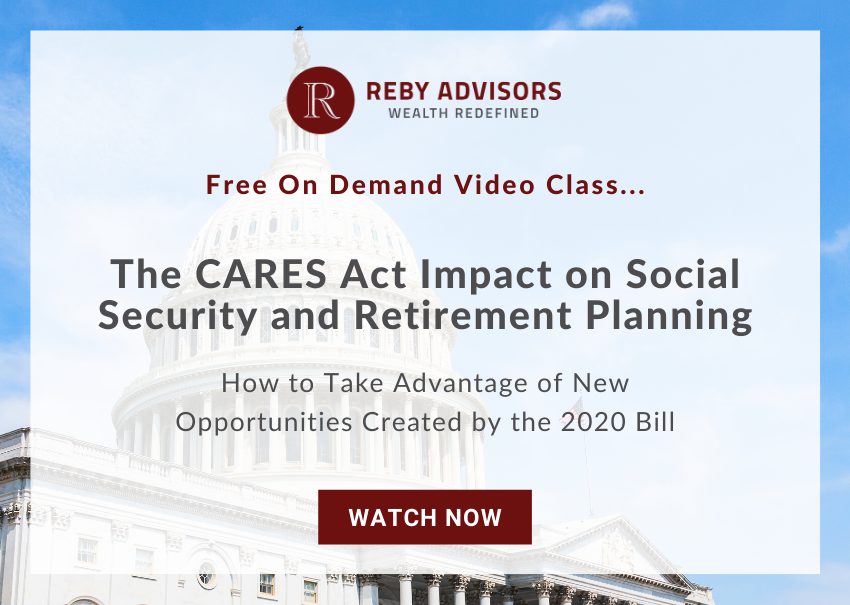 In this virtual class, Dixon Downey covers:
How to take advantage of the one-time 2020 rules for retirement accounts (and what NOT to do)

How to minimize or eliminate taxes on Coronavirus Related Distributions (CRD) from retirement accounts

New tax-efficient charitable giving opportunities

The impact on Social Security, business owners, and more
---
On-Demand eMoney Demo for Clients
3 Ways eMoney Is Designed to Enhance Your Financial Outcomes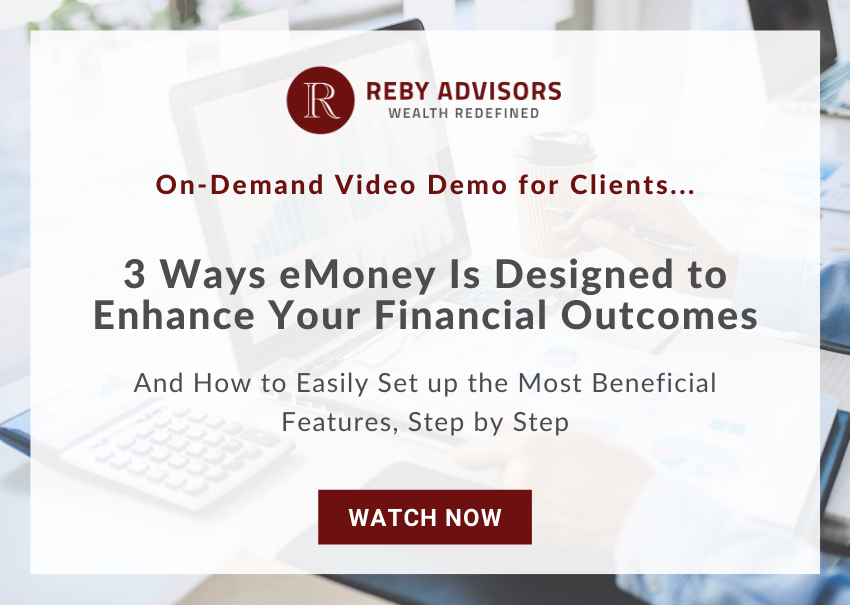 How to Easily Set up the Most Beneficial Features of eMoney, Step by Step
In this on-demand video, you will learn:
Easy-to-follow instructions to set up three highly beneficial features

How an organized, real-time Net Worth Statement simplifies your financial life

How to view the Investment & Asset Allocation Reports that holistically analyze all of your accounts and enable Reby Advisors to review your total strategy

How to customize the experience with Goals Tracking to add, adjust, and measure progress towards the goals that matter most to you

How eMoney enhances review meetings and enables you to get more timely advice
---
On-Demand Video
How to Strengthen Our Democracy in Troubling Times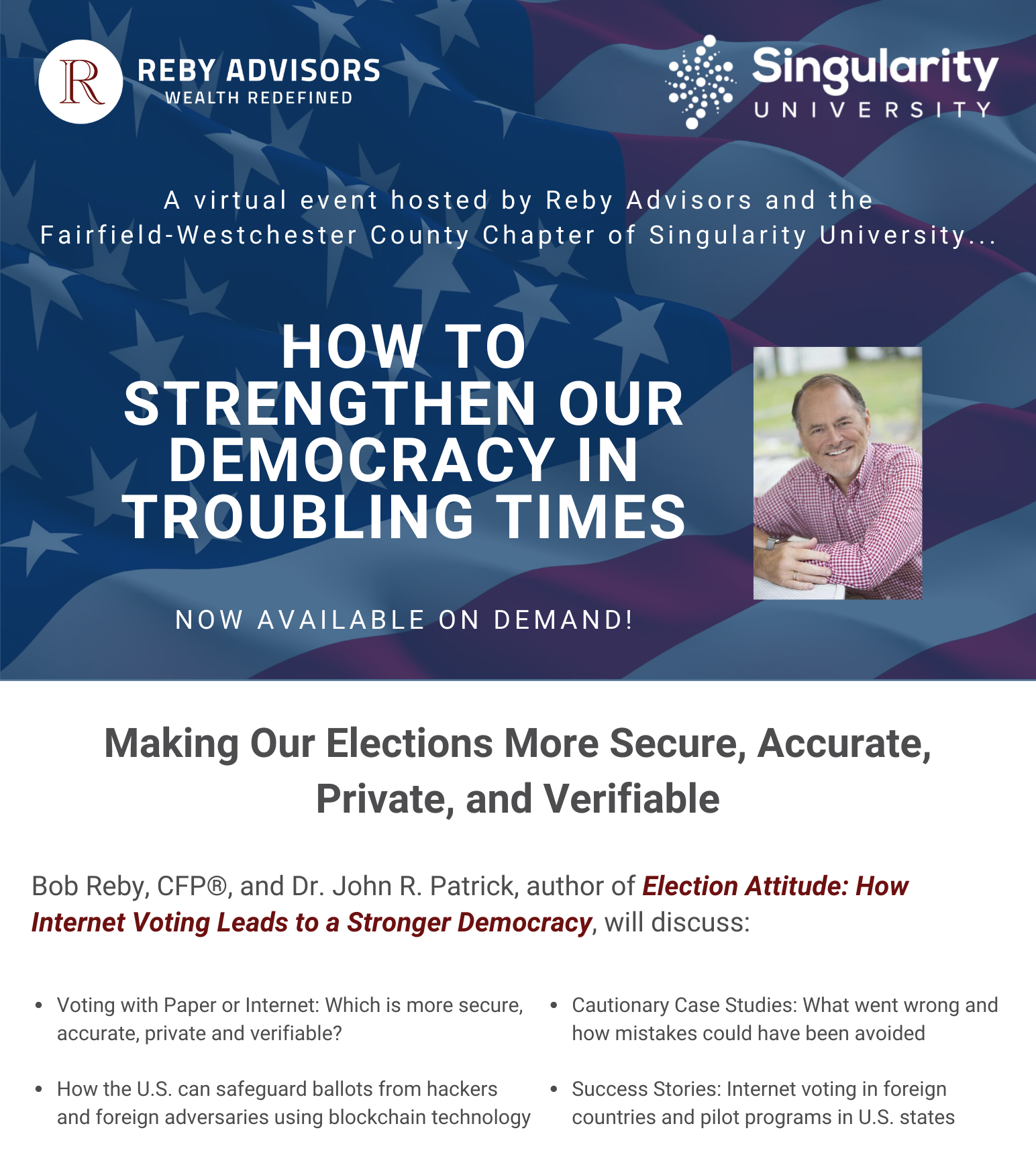 In this complimentary online video class, Bob Reby, CFP®, Founder and CEO of Reby Advisors, and Dr. John R. Patrick, author of Election Attitude: How Internet Voting Leads to a Stronger Democracy, discuss:
Voting with paper or via the Internet: Which is more secure, accurate, private, and verifiable
How the US can safeguard ballots from hackers and foreign adversaries using blockchain technology
Cautionary Case Studies: What went wrong and how mistakes could have been avoided
Success Stories: Internet voting in foreign countries and pilot programs in US states
---
Calendar of Events