You are here

Cause for Optimism to Conclude 2019 and Ring in 2020
Cause for Optimism to Conclude 2019 and Ring in 2020
Submitted by Reby Advisors | Certified Financial Planners | Danbury, CT on December 20th, 2019
By Bob Reby, CFP®, December 20, 2019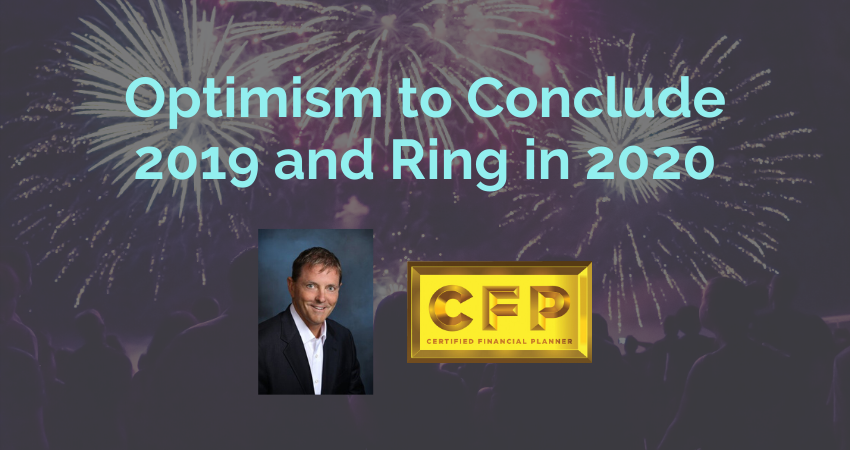 During this most wonderful time of year, when we have more opportunities to be grateful and thankful as we gather with loved ones, it seems like a good time to reinforce our long-time belief that "optimism is still the only realism."

Before explaining why I believe this is true, let's discuss the backdrop that we have been seeing, reading and hearing about all year through the eyes of financial journalists. Keeping in mind that the U.S. Equity Markets are poised to close on a record year, the following still made the headlines:
Trump tariff wars tipping America and the World's economy into a recession
An earnings recession (a pullback in earnings) was unfolding before our very eyes
Manufacturing in this country was slipping into decline
The President of the U.S. was being impeached
What is quite noteworthy about the Equity Market advance is the fact that it wasn't supposed to happen. The S&P 500 breached 3100 as of this writing. Remember, just a year ago on Christmas Eve, the "savage" bear market was being reported. What a difference a year makes! Well, pessimism always ends up getting mugged by reality.
More to the point, nothing bad that was supposed to happen – actually happened. Trump tariff wars did not tip the economy into a recession. The dreaded Earnings recession failed to materialize. The U.S. labor market transitioned from strong to stronger. Average hourly earnings are up 3% over last year. Simply put, more people are working and getting a higher wage than ever before in our history.
This is not to say that we don't have our challenges, but these are just some of the facts.
A chief fact, among many, is that we live in the most dynamic, innovative and entrepreneurial country in all the world economies.
I will conclude by accepting that mindless negative financial journalism will persist and most likely thrive again and again. Yet, optimism will continue to remain the only realism.
On behalf of our entire team of financial professionals, I wish you a wonderful, safe and happy holiday season. If you would like advice on how to pursue your financial goals in 2020, do not hesitate to give us a call.