You are here

6 Things You Need to Know About the New SECURE Act
6 Things You Need to Know About the New SECURE Act
Submitted by Reby Advisors | Certified Financial Planners | Danbury, CT on December 20th, 2019
By Patrick Doherty, CFP®, December 20, 2019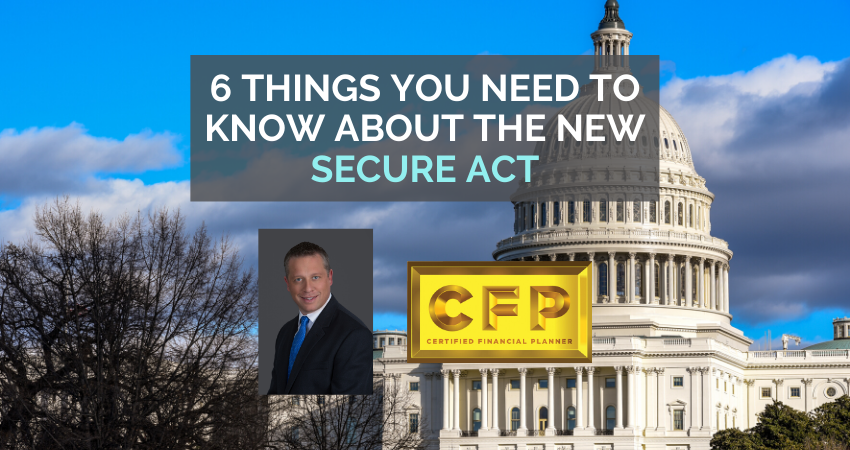 The U.S. retirement system has been in need of reform for quite some time now. According to Vanguard's How America Saves 2019 report, the median amount that Americans ages 65+ have put away in their 401(k) accounts is only $58,035.
Even worse, according to a 2018 report from the Federal Reserve, 1 in 4 Americans have neither retirement savings nor a pension.
Millions of Americans face a retirement crisis.
That's why in May 2019, the House of Representatives passed the SECURE Act, which stands for Setting Every Community Up for Retirement Enhancement. The Senate passed the bill on December 19, 2019, and President Trump is expected to sign it into law.
SECURE Act Timeline
March 29, 2019 - Introduced by representative Richard E. Neal
May 23, 2019 - Passed House
December 19, 2019 - Passed Senate
December 20, 2019 - The bill awaits the signature of President Trump
January 1, 2020 - Changes from the bill will take effect, upon the President's signature
Key Takeaways
Non-spouse beneficiaries must withdraw inherited retirement accounts within 10 years of owner's death, instead of spreading out withdrawals throughout their life
Raise the required minimum distribution (RMD) from 70.5 years to 72 years
Small businesses can now offer "safe harbor" retirement plans that are easier and less expensive
Removal of the maximum age limit for IRA contributions (previously 70.5 years)
Part-time workers can take advantage of 401(k) plans
Allow withdrawals up to $5,000 from retirement plans for adoption or childbirth without penalties
Allow withdrawals of up to $10,000 from 529 education-savings plans to repay student loans without penalty
Require lifetime income disclosures
Since the Pension Protection Act of 2006 has taken effect, there haven't been any major retirement bills that have passed Congress. But, as Rep. Richard E. Neal stated, "the House made significant progress in fixing our nation's retirement crisis and helping workers of all ages save for their futures."

Here are 6 things you need to know about the new SECURE Act:
1. You can Now Contribute to Traditional IRA Accounts After Age 70.5
The law currently prohibits anyone over the age of 70.5 from contributing towards traditional IRA accounts, even if they're still employed. Removing the age limit is a huge success for Americans. It's necessary too, as life expectancies continue to rise, and people continue to work into their later years in order to fund their retirement.
With the SECURE Act passing, the traditional IRA rules will match current 401(k) regulations and Roth IRAs - allowing any American, regardless of age, to continue contributing as long as he or she is employed.
2. Required Minimum Distributions Starting Age is Now 72
Following the same principles behind the age limit removal of contributions to Traditional IRAs, the SECURE Act will raise the age for required minimum distributions from 70.5 to 72. With life expectancies rising, more and more retirees are running out of money quicker. Pushing back RMDs another 1.5 years will give a nice boost to Americans who are trying to get their money to last a little bit longer, especially with many choosing to continue working in their 70s.
Delaying the age of RMDs also is beneficial since it delays the added tax burden that withdrawals add. RMDs can potentially bring retirees' income level up a tax bracket, so delaying the tax gives them more time to save for the future.
3. More Small Employers Likely to Offer Workplace Retirement Plans
According to Pew Charitable Trusts, approximately 30% of Americans do not have access to a workplace retirement plan. The SECURE Act attempts to address this problem by making it simpler and more attractive for small employers to offer this benefit.
According to Barron's:
"The bill also increases a tax credit related to startup costs for setting up a retirement savings plan to $5,000 from $500, as well as offering a $500 credit for plans that set up automatic enrollment—both of which could offer an additional nudge to employers.
The bill also increases a tax credit related to startup costs for setting up a retirement savings plan to $5,000 from $500, as well as offering a $500 credit for plans that set up automatic enrollment—both of which could offer an additional nudge to employers."
4. Employers Will Likely Add Guaranteed Income Options to 401(k) Plans
The SECURE Act will also encourage retirement plan sponsors to add in annuities as an option in workplace retirement plans by minimizing their liability if the insurer isn't able to keep up with its financial requirements.
The goal is to add certainty to more Americans' retirement income – a noble cause considering the decline of employer-funded pensions. However, it does have some drawbacks. First, since the legal liability has been taken off the employer, employees must be diligent in assessing the risks of any annuity option. Second, and perhaps more important, annuity options generally have very high fees; having too much of your retirement savings exposed to these fees is typically counterproductive to achieving your goals.
5. Part-Time Workers Can Finally Get a 401(k) Plan
The current laws (pre-SECURE Act) state that employers can exclude part-time employees from participating in 401(k) plans. Many Americans, however, work part-time and miss the full-time mark by a few hours, yet they act as full-time employees. Others work multiple part-time jobs to provide for their families.
Under the new rule within the SECURE Act, if a part-time employee has worked either three years in a row of at least 500 hours or 1,000 hours in one year (about 20 hours per week), they can enroll in a retirement plan. This is a win for part-time employees who have worked for years but struggled to save for retirement.
6. The Stretch IRA Strategy is Coming to an End
One of the most popular retirement strategies to stretch out the tax advantages of individual retirement accounts for future generations is about to come to an end.
Prior to the SECURE Act, an inherited IRA may be "stretched out" by taking only the required minimum distributions each year instead of getting a lump sum. These "stretch IRAs" allow beneficiaries to gain additional income from their inheritances without having the added taxes. However, this strategy isn't possible under the new Setting Every Community Up for Retirement Enhancement Act.
Under the new act, non-spousal beneficiaries are required to withdraw their inherited IRA accounts within 10 years. Basically, this means that if you become a beneficiary of an IRA, you're going to get taxed quicker and at much higher rates. A beneficiary who gets $500,000 must take $50,000 per year, which is very likely to put them in a new income tax bracket each year, driving up the percentage of the inheritance they must give to the government.
Many financial planners consider this to be the most controversial rule within the SECURE Act, as it will force many American retirees to rethink their current retirement strategy and estate plans.
SECURE Act Summary
In summary, the SECURE Act is likely to increase retirement savings in America, provide new opportunities to save on taxes beyond age 70.5 and – unfortunately – take away from the "stretch IRA" estate planning strategy.
These changes present the opportunity for new planning strategies in 2020 and beyond, especially when it comes to tax minimization, legacy assurance and maximizing inheritances.
If you would like advice on how to navigate the new law, please do not hesitate to give us a call.